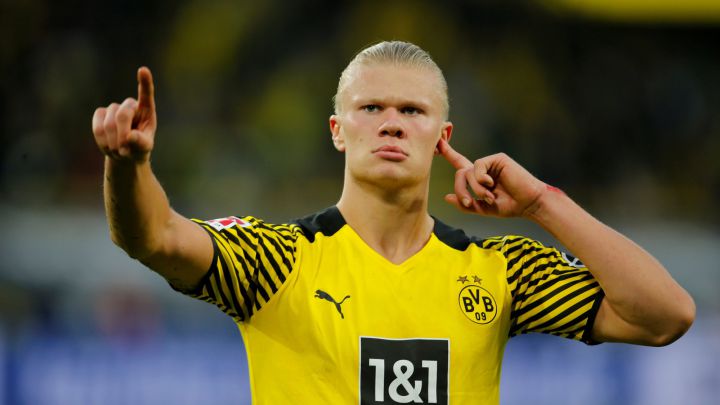 Photo: Leon Kuegeler / Reuters
One of the key names of the past summer transfer market was, without a doubt, Eerling Haaland. The young Norwegian star has become one of the most coveted players on the football planet.
Today there are many teams that have been interested in getting his services. However, Borussia Dortmund has flatly refused to let him out… at least for now. One of the teams that asked about Haaland was Paris Saint-Germain. Leonardo, the Sporting Director of the Parisians, has a good relationship with Mino Raiola, Eerling's agent among many others. Until now, the figures for the possible transfer were not entirely clear, but according to 'La Gazzetta dello Sport', Raiola would have asked for a salary of 50 million euros a year.
This situation, however, has several aspects that must be taken into account. First, the cost of the transfer. According to various specialists, the market value of Haaland is approximately 120 million euros. On the other hand, according to sources, his termination clause is between 75 and 90 million, a figure much lower than the aforementioned market value.
According to the Italian newspaper, Raiola would have assured that the total amount of the operation is lower than said market value. Thus, the agent would have justified in this way the high emoluments of the player. Let us remember, in the same way, that Mino Raiola already spoke with the club about the signing of Gigio Donnarumma. In fact, the goalkeeper reached cost 0 upon termination of his contract with his former team. This could have been, among others, the moment when he would have had the conversation for Haaland.
The second name in contention in this whole affair, according to 'La Gazzetta dello Sport', is Kylian Mbappe. Throughout the summer it was rumored with the signing of him by Real Madrid. In this way, the departure of Mbappe would be key for Haaland to be able to join the Parisian club. In fact, there they would see him as the perfect substitute for French. Consequently, if Kylian finally lands at the Santiago Bernabeu, the best-positioned team to take Erling would be Paris Saint-Germain.
In the end we would be talking about a chip exchange between some of the most powerful clubs on the old continent. While it is true that there is still nothing official, it would fit a lot with the market situation and in the interests of all clubs… except, perhaps, Borussia.